Publications
The Resident
HRA publishes "The Resident" magazine four times per year - Spring, Summer, Autumn and Winter. The magazine is packed with information about local events and interesting articles about this lively Horsell community. The Resident is delivered by volunteers free of charge to all houses in the Horsell area.
Articles and photographs about our village are welcomed from our whole community: email The Resident Editor
Catch up on back issues of The Resident by visiting The Resident Magazine Archive
Horsell Charity Calendar
HRA (Second Thursday Club) publishes the "Horsell Charity Calendar; every year. Look out for it in local shops from August onwards. The calendar uses photographs selected from those sent in by local residents and helps to promote local businesses. All proceeds are divided between several local charities which are chosen each year by the Second Thursday Club.
If you would like to send photographs for the next calendar or would like to participate it's production, email The Calendar Team
Pathways of Horsell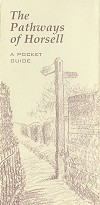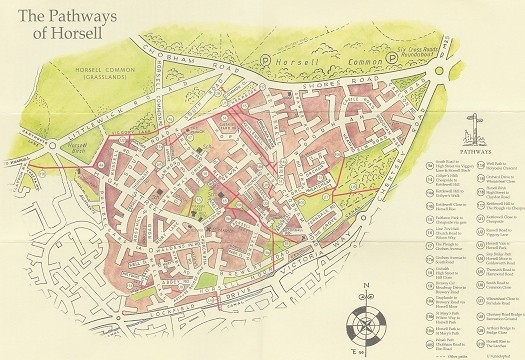 Horsell has many semi-woodland public footpaths, some short and relatively narrow between the rural Common and the many residential Closes nearby, and some longer and wider between the main village and Woking to the south. All are clearly marked by signposts.
"The Pathways Of Horsell - A Pocket Guide" unfolds out into an A3-size map detailing all of Horsell's public and unadopted footpaths. Published by the HRA Footpath Group in 1999, the reverse side of the map includes a short illustrated history of Horsell by HRA and a description of Horsell Common by Horsell Common Preservation Society. The Pocket Guide is dedicated to the memory of local artist Terry Entract, who created the map and illustrations.
To purchase a Pocket Guide, ask in Horsell village main shops or email Anthony.