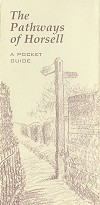 Horsell has many semi-woodland public footpaths, some short and relatively narrow between the rural Common and the many residential Closes nearby, and some longer and wider between the main village and Woking to the south. All are clearly marked by signposts.
"The Pathways Of Horsell - A Pocket Guide" (front cover, left) unfolds out into an A3-size map detailing all of Horsell's public and unadopted footpaths. Published by the HRA Footpath Group in 1999, the reverse side of the map includes a short illustrated history of Horsell by HRA and a description of Horsell Common by HCPS. The Pocket Guide is dedicated to the memory of local artist Terry Entract, who created the map and illustrations. It is available price £1.50p from several Horsell shops or direct from the HRA.
To purchase a Pocket Guide, ask in Horsell village main shops or contact the HRA directly. The HRA Footpath Group also has a display stand at the Horsell Village Show every summer, where you can find out more about the Footpath Group's ongoing work to both publicise and preserve Horsell's many footpaths.