Bedser Sports Award Scheme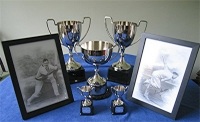 An ongoing HRA project begun in 2007 after a bequest from the estate of Surrey & England Cricketer Eric Bedser OBE (1918-2006), a lifelong Horsell resident. HRA decided to set up a scheme to recognise local achievements in sport whereby three engraved Bedser Cups are now presented yearly to a Horsell Middle School pupil, to a High School Year 5 pupil and to the winner of a sports-related category among the competition classes at the annual Horsell Village Show.
Eric's twin brother Sir Alec Bedser has also recently donated to HRA two artistically enhanced prints based upon photographs of himself and his brother in individual cricketing action in the 1950s, and signed limited edition framed reproductions of the prints are available for purchase from HRA in two sizes, at £100 for a set of two large ones (16"x12") and £ 50 for a smaller set (size A4).
Choir
Arising from a Second Thursday Club initiative, Horsell Community Choir was formed in March 2013 with the idea of providing an opportunity for all ages to enjoy singing in an informal setting.
The Choir has continued to grow in strength and has performed at a number of charitable events in Horsell and Woking.
If you would like to know more about the choir visit www.horsellsings.org.uk
Christmas Market
Each year since 2012, the Second Thursday Club organises a Christmas Market in Horsell Village.
A great atmosphere is created with illuminated Christmas trees above the shops, participation of local shops and pubs, craft sales by local artisans, children's activities, music and carol singing.
Churchyard
The Pares Woodland Garden team have expanded the scope of their activities to assist with the maintenance of the lovely historic churchyard at St Mary's Church.
So far the team have helped with the trimming of hedges and removal of damaged trees from the southern boundary.
Defibrillator
Thanks to the generosity of individuals and traders, there is now an Automated External Defibrillator (AED) available in the event of a heart attack. HRA are very grateful that the Co-Op in Horsell agreed to "house" this device on their premises, being central and open early morning till late night and therefore easily accessible. We also thank all the shops and schools who are displaying the important AED sign in a prominent position so that the Co-Op phone number can be read by everyone on their premises.
Free training sessions are now being held every few months provided by NHS experts who live locally. For further information contact Tony Kremer (a.kremer@ntlworld.com) Tel: 764351).
We are now hoping to raise funds for a second defibrillator that can be housed at the Red Lion and would be handy for emergencies there, at the Hall, Scouts & Guides HQ or the Crown. Donations to Tony would be gratefully received!
Footpaths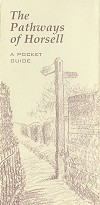 The Footpaths Group is an HRA sub-committee which was set up in the 1990s to oversee the maintenance of Horsell's public footpaths and signposts. The work of the Footpath Group is largely funded by sales of "The Pathways Of Horsell - A Pocket Guide", ( a booklet published by HRA in 1999 that contains a fold-out illustrated map), but is also funded directly by HRA on occasion when specific needs require.
A recent initiative of the Footpaths Group has been to improve the condition of a number of key Horsell footpaths in conjunction with Woking Borough Council. A working party of local volunteers has made the path near Broomhall Common safer by cutting back holly and near the path to remove hiding places.
Horsell Care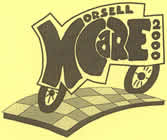 Horsell Care is an ongoing project to assist residents of Horsell who, through age or infirmity, find certain everyday tasks too difficult. The project started in September 1999 and in its first 3 years had performed over 1,700 jobs for more than 100 residents.
It is organised by Horsell Residents Association with the support of several other local voluntary services organisations.
Horsell Sports Ground Association
Independently run, but reformed as a direct consequence of HRA's 1994-2001 project to save Horsell Sports Ground from a threat of redevelopment due to the death of its last surviving "owner" trustee. HRA led negotiations with the National Playing Fields Association and the Treasury Solicitor which culminated in the NFPA becoming the custodian trustee of the sports ground on behalf of the residents of Horsell (all adults of whom are now automatically members of HSGA by virtue of age and residency). The HSGA committee includes an HRA appointee.
Litter Pick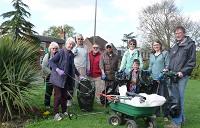 Horsell is very fortunate to have so many green spaces and grass verges around the village and it is a shame to see this spoiled by so much litter around. So on the third Saturday of every month, the Second Thursday Club have organised a regular litter pick. All equipment is provided. If you would like to join this activity or suggest an area that needs attention, please contact Robin Hoyle (robin_hoyle@hotmail.com)
Pares Woodland Garden
We have now opened up this area of neglected woodland so that everyone can use and enjoy it.
We have made access to the wood easier with a wide entrance path and we have cleared some of the holly so that light can get in. We have planted woodland flowers. These will attract butterflies and birds and bring the woodland to life again. Families can explore in there and schools and Scouts can go there too. We have planted some extra hedging shrubs by the fences and put up bird-boxes made by pupils at Horsell Junior School.
The planting has been very successful with bluebells and primroses adding colour in April. We have laid a new entrance path and made a perimeter path around the wood using the branches and chippings from the cut-down holly.
The garden was also entered for the Britain in Bloom, South and South East Region, and to our delight was judged to have achieved level 3 "Developing" status - a great recognition for our first year's work.
The garden was officially opened on 15th June by Ray Morgan, Chief Executive Officer of Woking Borough Council and attended by our MP Jonathan Lord, and Councillors Colin Kemp, Beryl Hunwicks and Ann-Marie Barker as well as many member of the local community.
Thank you to Surrey Wildlife Trust for advice and encouragement in embarking on this project. This project would not have been possible without the generous help of many volunteers and the support of Woking Borough Council (WBC). WBC/Serco have been very responsive in clearing away the mountains of rubbish, rubble and green waste that have been collected by the volunteer working parties. Thanks also to WBC for providing and installing an attractive sign-board for the site.
Volunteers are continuing to look after this area on behalf of the community. Eventually the whole of the Hill from the High Street to the Woodland area will be improved for Horsell.
We are now into the next phase of our programme in which we will continue to improve the paths and enhance the planting to make the garden an attractive amenity the year round as well as being a haven for wildlife.
Why have we called it "Pares " woodland garden?
Canon Pares , whose photograph can be seen in the Village Hall, was the vicar of St. Mary's Church and he bequeathed some of his land to make a recreation ground near to the Village.
You can download a leaflet about the history of this woodland here.
We have regular working parties of volunteers generally working in the woodland for two to three hours on Saturday mornings.
If you would like to ask further questions or volunteer, please contact Geoff and Caroline Hughes or Tony Noel or just come along and see what is being done, have a chat and join in!
Gallery
Horsell Prepared
Horsell Prepared exists to build and maintain the resilience of Horsell. We are part of Horsell Resident's Association, and are a volunteer-run organisation. Our aim is to make sure Horsell is as prepared to cope as well as possible with emergency and crisis situations that may affect our village at a community level.
We aim to be active in situations from flooding or heavy snow or power cuts, to pandemics, missing children, and supply issues. How do we do it? We have a long list of volunteers who might be called upon (with no commitment required). And we have co-ordinators who train to take charge of our response efforts, if needed. We develop, and practice methods and processes to respond effectively and we collaborate with other groups where possible.
For more information or to become involved go to Horsell Prepared
Horsell Walks
All the walks are here
Wells In Woking
150th Anniversary Celebrations 1866 - 2016
The Wells in Woking project sprang from an idea presented to the Second Thursday Club by Tony Kremer.
His idea was to celebrate HG Wells in a more significant way than Woking and Horsell had done to date. After all HG Wells lived here in Woking and it featured in his writings, especially of course the War of the Worlds, so close to home!
This was back in Spring 2013, but no-one was particularly taken with the proposal at first. Eventually the project took off when Peter Beck, a retired university professor with several books to his name, joined the team. It turned out that Peter was in the process of writing a book about Wells!
Tony and Peter then teamed up with local amateur historian Ann Harington and approached the Council with the HG Wells idea. They outlined to the Council a number of proposals, the most ambitious being a permanent exhibition in Horsell dedicated to HG Wells. Other ideas included a website, events, tours, trails. The key was to build around the forthcoming significant 'Wellsian' anniversary dates in 2016 – 150 years since his birth and 70 since his death.
Working closely with Woking Borough Council, the project was adopted by the Council's Celebrate Woking team for 2016. This project generated a lot of research into HG Wells and stimulated an exciting program of events. An archive of this project is now held at Wells In Woking.